Local payments expertise power SHEIN's global expansion
How the ecommerce giant leverages Checkout.com's market knowledge and platform scale to deliver exceptional customer experiences in MENA and beyond. 
SHEIN is a retail trailblazer and standout success story in the digital economy. Founded in 2012, the company has grown from a small online store to the world's largest online-only fashion retailer, shipping to over 150 countries worldwide.
SHEIN remains focused on the future on top of its remarkable success. With innovation and excellence as its core values, the company focuses on delivering exceptional value and service to even more customers worldwide, including in the Middle East and North Africa (MENA).  
"To meet our growth goals, we need payments partners with a deep knowledge of the markets we operate in and that have a proven track record of success," says Ted Wang, Head of Payments at SHEIN. "Checkout.com is one of the standout payments partners to work with in MENA."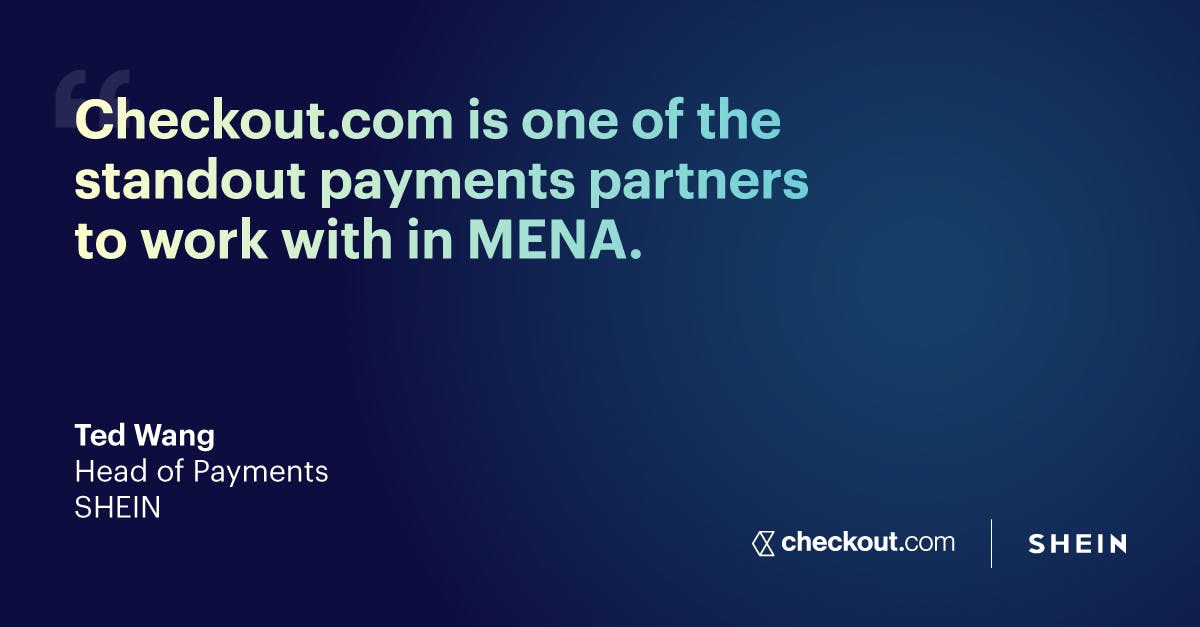 Local knowledge delivers impressive payments performance across MENA
Checkout.com has delivered consistent payment authorization improvements for SHEIN, mainly through the work of its issuer relationship team. The highly specialized group analyzes the granular payments data flowing through the Checkout.com platform, identifying patterns and anomalies that show areas for optimization.
Armed with these insights, the team then leverages its deep relationships with the issuing banks to propose measures that'll lead to more successful payments.
"Checkout.com has over a decade of experience operating in the MENA region and has formed deep relationships with key parties in the payments ecosystem," says Wang. "It also has nuanced insights into the region's payment trends, enabling it to benchmark best-in-class standards and support SHEIN to reach those."
Fahd Maqba, Head of Issuer Relationships, Checkout.com, adds: "When an issuing bank falsely declines a payment, everyone loses — the customer, the merchant, and the bank. That's why we proactively partner with issuing banks, using data-driven insights to pinpoint why payments are declined and together find a solution."
Tailoring payments for SHEIN across MENA and beyond
Though the partnership has focused on MENA, ‌it's now replicating the success with Checkout.com in Europe. 
Keep up-to-date with all things payments
Keep up-to-date with all things payments